24 Feb

A rallying cry for the travelling cyclist

Wouldn't it be much easier to be a travelling runner?

Instead, we choose to travel around the world, by car, train, bus, and plane with our beloved bicycle. But it's when we get to airplane travel, we encounter the wrath of airline policies on travelling with a bike.

And you will know they hate you then.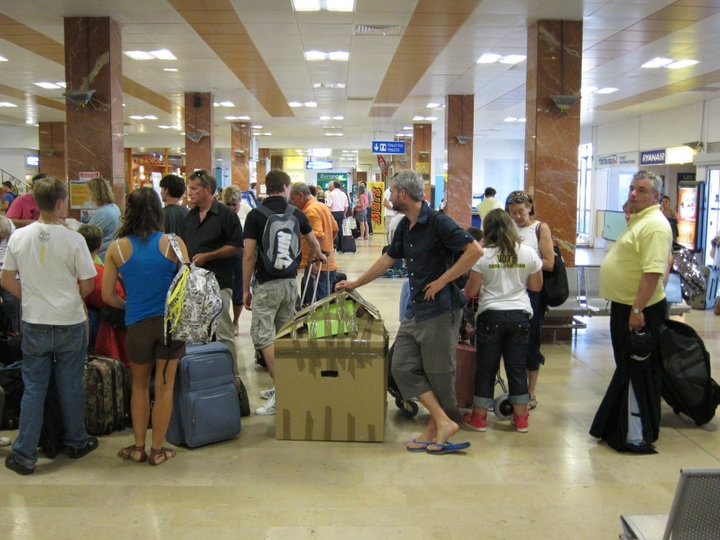 Flying out of Perpignan on thevictour.com, our 2010 trip
Airlines will charge between $0 and $200 per flight leg to bring your bike. This is preposterous, and these evil policies must die. Here in Canada we pay $70-100 on Air Canada and $70 on WestJet
Meanwhile, golfers seem to be loved by airlines — wealthy "lobbyists" perhaps — and as such rarely pay to bring their oversized golf bags.
Meanwhile, quantifiably, aren't most cyclists fit and light, and so, even with the weight of their bike case, they're lighter than many other passengers (via @amyakirkham)? And, unlike my recent endless three-hour wait on the airport tarmac to deal with an unhealthy passenger, most cyclists are healthy and probably won't delay flights or aggravate flight attendants with health issues or needs.
How can we change this?
Consider choosing your flights and airlines based on their policy. Speak with your wallet. I'd love to see a comprehensive list of who charges what, but the reality is that it's changing so quickly (in an upward trajectory) that it'd be obsolete soon.
Make a stink! I've had fun aggravating agents at check-in about their proposed bike charges. Normally, anything under $100 and I'll comply. But with enough stubbornness, you can eventually get your bag through without a charge — not for the frequent use.
Make a stink using social media with your upcoming airlines.
And, share your thoughts and this post!
The worst?
Delta and Lufthansa are the worst I've seen, charging $150-200 per leg.
The best?
Many overseas flights won't charge — unclear why — but do take advantage. Check out Virgin, BA, KLM.
Other tricks to travelling with your bike:
Don't look like a cyclist, or you'll be prey for bike charges. Avoid cycling related clothes, stay away from other cyclists at the airport, and don't strap your helmet to the outside of your carry-on — a dead giveaway.
Pack a starting pistol in your bag — you'll have to declare it, but TSA will assign an agent to your bag, and, promise, your bag will not go lost.
Don't say it's a bike in the bag! When asked, you can say it's: camping gear, bike parts or "sports" parts, trade show materials, art, or even deposition materials. Yep, be nice and funny.
Get a bike frame with couplers and pack it super compact http://www.youtube.com/watch?v=Ml5ZsuEdqOY
Don't pack CO2 canisters — they may be detected and set off bike alarms
Put your foot under box while it's being weighted to *slightly* lighten the weight under the 50 pound threshold. Also to get under the threshold, use a lighter soft-shell case or pack in a cardboard box.
Join an airline rewards program, and you may evade charges.
Remove your rear derailleur — the hanger is often a flight damage hazard. Also, protect your dropouts with those plastic pieces that come with new bikes. Wrap your tubes in cut up swimming noodles, a yoga mat, cardboard, or bubble wrap. Pack your frame upside down to protect the rear derailleur hanger.
Pack as little else inside your case to keep the weight down and agents and bag-handlers less grumpy.
And my two favourite tips:
Good luck, or let's speak up. Perhaps an online petition via change.org/petition.